Hotel Klosterbräu & SPA*****
Real Tyrolean hospitality
The Seyrling family. Since 1516. YOUNIQUE®

For over 200 years, the Wellnesshotel & SPA Klosterbräu has been owned by the Seyrling family, the sixth generation to run it with an extraordinary charm. The luxury hotel offers its guests 90 rooms and suites, eight restaurants and/or dinner locations, an in-house beer brewery (awarded Austria's best beer 2015) and a cozy piano bar. A special highlight is the Spiritual SPA on 3,650m² with the unique and holistic YOUNIQUE® Spa concept. The town of Seefeld is the heart of the Seefeld Olympic Region, which attracts visitors with many activities in summer and winter. Only in February 2019 the Nordic Ski World Championship took place here once again.

Tradition & Lifestyle are written in capital letters here. Despite its venerable history and 5 stars, the Klosterbräu is a dynamic and young wellness and lifestyle hotel. The current generation of entrepreneurs (40+ years) has transformed the former "Grand-Hotel" into a truly unique wellness hotel. This combination and the charming, cordial and honest hospitality are especially appreciated by guests compared to classic 5-star hotels.

Location
Centrally located in the town centre of Seefeld.

The Olympic region Seefeld in Tyrol is perfectly accessible by train and the train station is only a 3-minute walk from the hotel. New since 2019: Seasonally guests can also travel directly from Hamburg to Seefeld by ICE train. Alternatively, guests can also arrive and be picked up at Innsbruck railway station.

The airport Innsbruck is only 25 minutes away by car. The scheduled flight services directly to/from Innsbruck: Amsterdam, Berlin, Bristol, Düsseldorf, Eindhoven, Frankfurt, Hamburg, Kiev, Liverpool, London, Moscow, Rotterdam, Groningen, Vienna and many more.
Rooms & Suites
Room categories:

Single room Comfort – 22 qm
Double room Comfort - 30 qm
Double room Excellence - 30 qm
Double room Premium - 30 qm
Double room Royal – 40 qm

Suites:

Lifestyle Suite Relax – 52 qm
Lifestyle Suite Royal – 52 qm
Lifestyle Suite Family Plus – 63 qm

Juniorsuite Basic – 45 qm
Juniorsuite Family – 55 qm

Suite Deluxe – 55 qm
Suite Deluxe South – 44 qm
Suite Premium – 49 qm
Suite Family Panorama – 70 qm

Loft 500 with panorama terrace– 95 qm + 30 qm terrace
Restaurants & Bars
Bräukeller & Grill - Homemade Beer & Tyrolean Tapas

1516 der Klosterkeller - exquisite wines + private dinner in the original cellar vault

Gewölbesaal & Ritter Oswald Stube - Gourmet Restaurant

Vitalbistro - light and healthy cuisine (during the day)

Der Klosterhof - summer location under the open sky for breakfast and dinner
Spa & Wellness
The unique atmosphere of a 500-year-old monastery forms the basis for the unique Spiritual SPA concept of the Hotel Klosterbräu & Spa. Therefore, all treatments include rituals from past monastic times.

Feel.YOUNIQUE®. The holistic and above all individual wellness concept.

This is the concentration on individual needs. Because every guest is unique in his or her physique, wishes and needs. The Feel.YOUNIQUE SPA concept was developed to live and feel this uniqueness. Within the framework of this concept, only a time window for treatments is booked. In a detailed consultation with a SPA therapist, guests decide on the spot which treatment is the right one for them. The innovative SPA concept has already won several awards. The latest innovations in the 3,500 m² SPA area are the worldwide unique hand-carved sauna, the never-ending beer fountain, the Vital Bistro, the reading lounge with wooden fireplace and the new relaxation room.

In the hand-carved sauna, healing powers unfold. Here, as in the other seven theme saunas, body and mind find relaxation.

Guests also experience great pampering moments during the truly unique YOUNIQUE® massage, which is 100% tailored to their own needs. Unique treatment procedures, compositions of special experiences specially tailored to the guest, a warm feeling of safety and a harmonious connection to the secrets of hidden worlds create unforgettable moments.

The offer is rounded off by Yoga, Pilates, Qi Gong, Aquafit and sound bowl journeys. All these relaxation techniques contribute significantly to mental health. Especially Yoga, the connection of body, mind and soul, is a fixed part of the offer.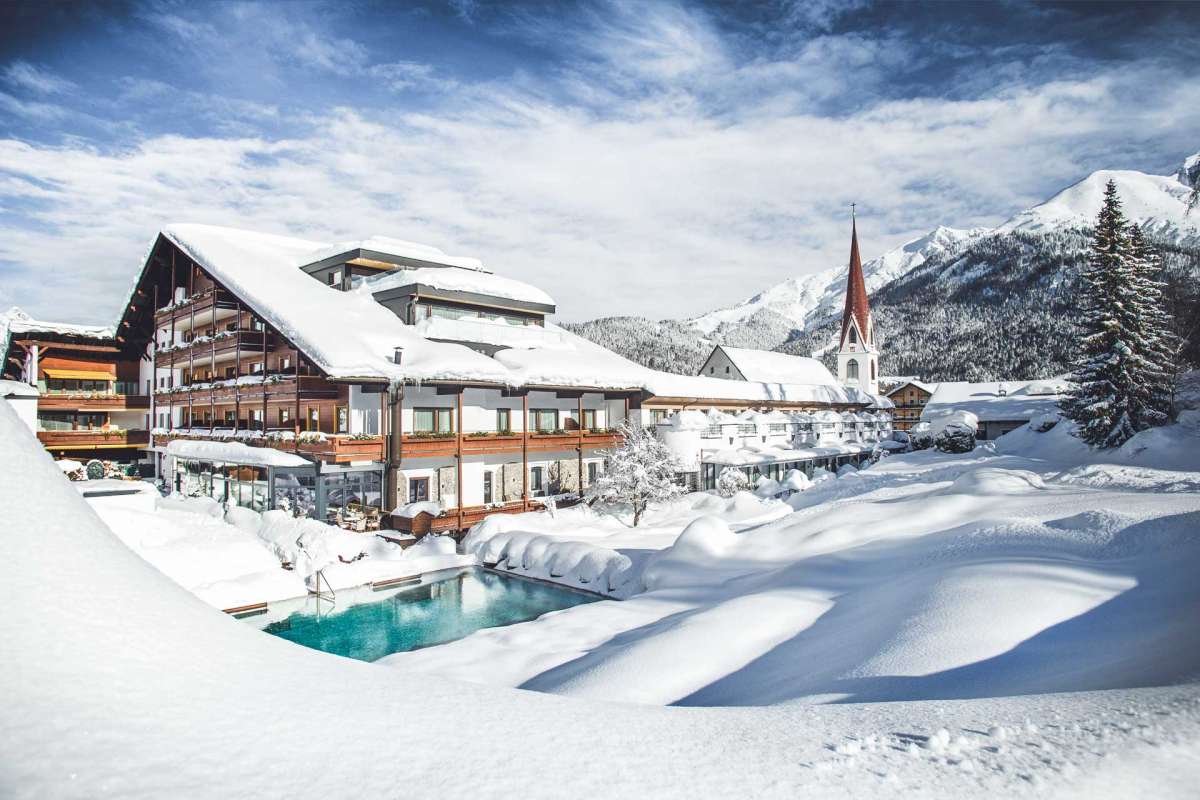 Leisure Activities
Summer, Autumn & All Year
Walking on sunny, flat and wide paths
Stroll through the stylish shopping zone of Seefeld
Walk or picnic with alpacas
Adventure playground at the Rosshütte with tubing
Nature playground Karwendel in Scharnitz & am Seefelder Wildsee
Fishing at the Forellenhof Leutasch
Golf on the Seefeld golf courses (27 holes)
Swimming Pedalo & Stand-Up Padelling at lake Möserer or at the Seefelder Wildsee
Horse-drawn carriage and tractor-drawn carriage rides
Casino Seefeld - 100m from the hotel
Winter
Skiing in the family ski areas Rosshütte & Gschwandtkopf
Cross-country skiing on the best cross-country trails in the world (over 240km!)
Winter hiking on the sunny and snowy high plateau
Snow tubing, tobogganing and sledding on the Pfarrhügel (100m from the hotel)
Ice Skating & Curling at the Sports & Congress Centre (100m from the hotel)
Snowshoeing and igloo building with Clemens
Snowcat ride in the Seefeld Olympic region
Searching for animal tracks in the forest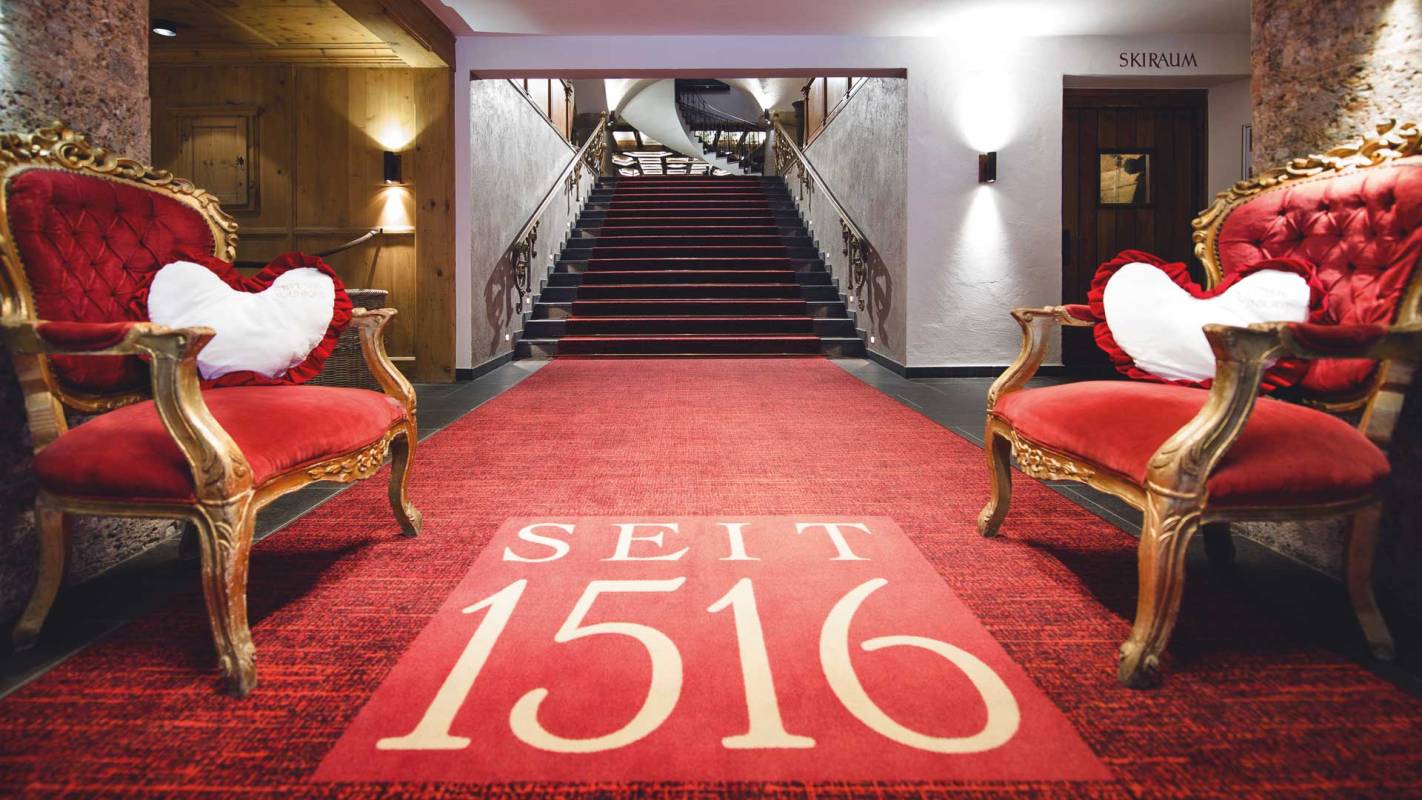 Meetings & Events
Seminars, conferences as well as family, teambuilding or company events can be professionally organized by Hotel Klosterbräu & Spa at any time.

Andreas Hofer Stube:
Executive meeting room in rustic Tyrolean style with wall paneling from the 17th century, combined with a 7 m long noble oak panel and hunting trophies. The contemporary complement is provided by elegant leather armchairs, elaborate lighting, high-definition audio and visualization technology and 50 inches flat-screen TV.

Augustiner Chor:
The Augustiner Chor serves as a classic conference room and can accommodate up to 150 people. Its unique ambiance is particularly strongly influenced by the 500-year-old stone wall, which can be illuminated with LEDs in its own CI colors. Daylight, state-of-the-art conference technology and the history of the room make it a "location".
Do you have any further questions about the hotel?