Martinhal Sagres Beach Family Resort Hotel
The brand Martinhal stands for the successful union of luxury, family, design and true hospitality. Spread over whole Portugal the Martinhal group stands for unforgettable moments during your perfect, high-class family vacation. At Martinhal Sagres Beach Family Resort it's all about your perfect beach vacation. The resort captivates by its typical modern architecture promising a vacation in style.
Location
The resort is overlooking breathtaking Martinhal's beach, within a nature reserve nearby the historical city of Sagres at the untouched West Algarve. Travelling by plane the closest airport to Martinhal Sagres Beach Family Resort is Faro.
Rooms & Suites
Martinhal Sagres Beach Family Resort offers a hotel and various spacious cottages and villas of diverse standards for every taste. The hotel offers 37 luxurious equipped rooms including two loft style beach front suites and some family rooms with connecting doors. All rooms benefit from a breathtaking view over the Atlantic Ocean and have their own balcony or terrace. Martinhal village's houses (all with fully equipped designer kitchen including washing machine and tumble dryer) consist of 55 Ocean Houses, all facing the Atlantic, 38 spacious Bay Houses with a wonderful view over the adjacent nature reserve, 39 Garden Houses in the heart of the resort near its infinity pool and ten secluded Pinewoods with private garden and private pool. In addition the resort is well known for its 45 award winning luxury villas with their huge gardens, private pool, individual interior design, spectacular views and comfortable equipment. 23 very spacious Vilas Mimosas with private garden and sea view create the finishing touch to the resort's offer of rooms, cottages and villas.
Restaurant & Bars
O Terraço – stands for highest-quality ingredients from the region, a modern interpretation of country-specific dishes, Portuguese wines, and contemporary design as well as a friendly and familiar service culture.

Os Gambozinos – the Italian á la carte restaurant located at the village square promises a Mediterranean al fresco cuisine serving warm and cold antipasti, salads, pasta, pizza and a daily changing special.

As Dunas – the stylish beach restaurant specialises in fish and seafood. Guests love its casual ambience and the beachfront location. Perfect between meal snacks and salads are served.
Spa & Wellness
Finisterra Spa offers a great variety of massages and other wellness treatments including exclusively designed programs for men, families, teenagers and even infants. Great attention is paid to a predominant use of solemnly organic products for the treatments. The resorts' spa owes his name to historical and geographical aspects: Finisterra means "end of the earth". It perfectly describes Martinhal Sagres's location, at the most south-western tip of Europe. It brings together the history of the area, which is connected with the glorious Ages of Discoveries in Portugal's rich past.
Leisure Activities
From horse-riding via Pilates to Zumba – already at the resort itself various fancy leisure activities are offered. Golf and tennis enthusiasts find their favourite facilities nearby. Besides kayaking and surf courses water rats can also experience a stand up paddle tour alongside the coast and its hidden caves which grants stunning moments. Scuba divers enjoy wreck and cave diving. Exploring the surroundings as family can be done via hiking tours throughout the nature reserve, renting bicycles, booking boat excursions, opting for a jeep safari or even indulging yourself and your beloved ones with a balloon ride or a helicopter flight.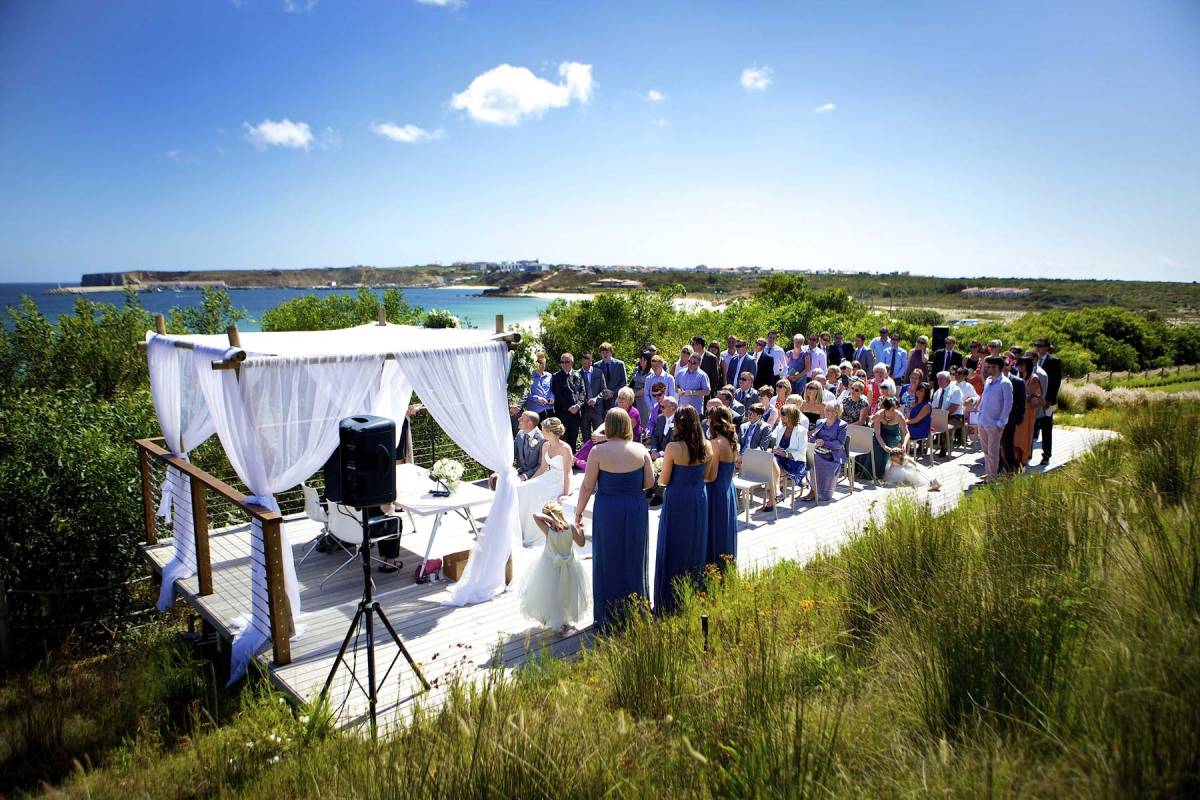 Meetings & Events
No matter if your inquiry is about weddings, anniversaries or creative meetings, you will love Martinhal's unique and flexible offer for any kind of group events. The two meeting rooms located at the village square are equipped with the latest technology features including video sets, projectors, pull-out screens and high fidelity sound systems. WLAN access is complimentary in all meeting rooms and at the outdoor areas.
Do you have any further questions about the hotel?